CTKOS is CREEKTEE KING OF STICKERS - AUTHENTIC. YOU.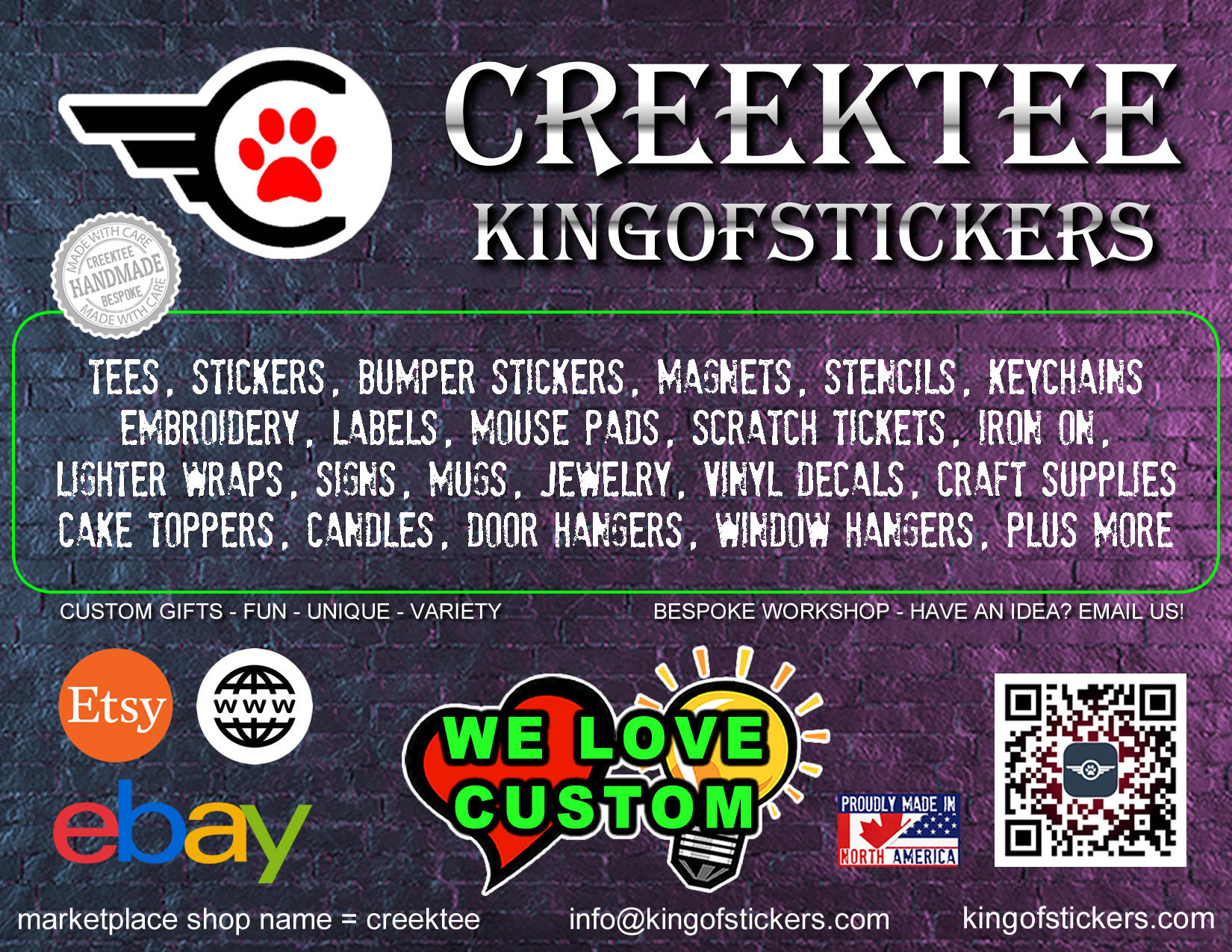 CREEKTEE KINGOFSTICKERS Bespoke Workshop loves to create custom fun THINGS that speak to you. 
We are also on Etsy and Ebay Marketplaces.
CREEKTEE KINGOFSTICKERS : The dog paw set in the wings is a symbol of you being you....make no apologies, make many mistakes, like a dog runs a path of their choosing, you on your path, freedom, roaming, and let the wings soar you above that path to see whatever future you decide, your fate is in your hands, your life, no one elses!

 TELL THE WORLD. AUTHENTIC. YOU. that is the symbol of CREEKTEE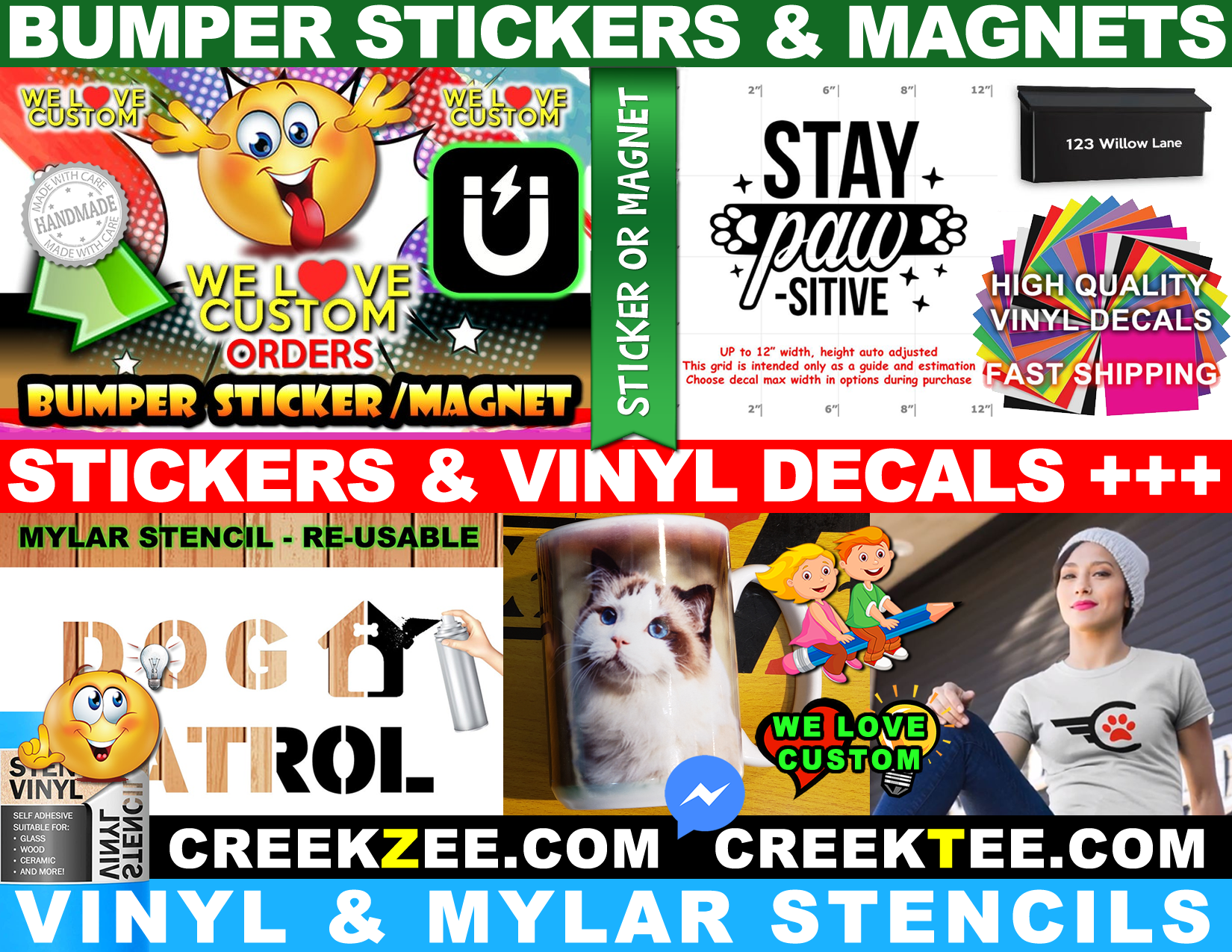 Check out our "Video Commercials" to learn more : https://www.facebook.com/pg/creektee/videos/
We operate our business 7 days a week, making and shipping on weekdays, and weekends continually filling orders...sometimes late into the evenings.... feel free to message us your custom idea's!

From T-Shirts to our popular "Crazy Bumper Stickers" and Bespoke Mugs we love to create custom fun things. Bumper Stickers, Bumper Magnets, Fridge Magnets, Small Stickers and Magnets to Large Stickers and Magnets, Buttons and Pins, Vinyl Decals Die Cut to Full Color/Colour we love them all...If you have an idea or wish to customize your own t-shirt, sticker, magnet or decals..., or do not see a size your looking for? reach out to us. We have an in house graphics team ready to create the Authentic. You.

We strive to complete your order as quickly and accurately as possible so that your order will ship out as soon as possible.

We strive to create and sell quality products and items, if you have any questions or wish to speak to us regarding your order do not hesitate to reach out to us, your satisfaction for value is important to us as we focus on premium quality product creations in on demand print and create opposed to mass produced to ensure we always create the best quality product.

We dispatch orders quickly however depending on the shipping carrier and global uncertanties, actual times to receive items vary. North American orders generally 1-3 weeks and overseas (outside of North America) may take 1-4 weeks or longer.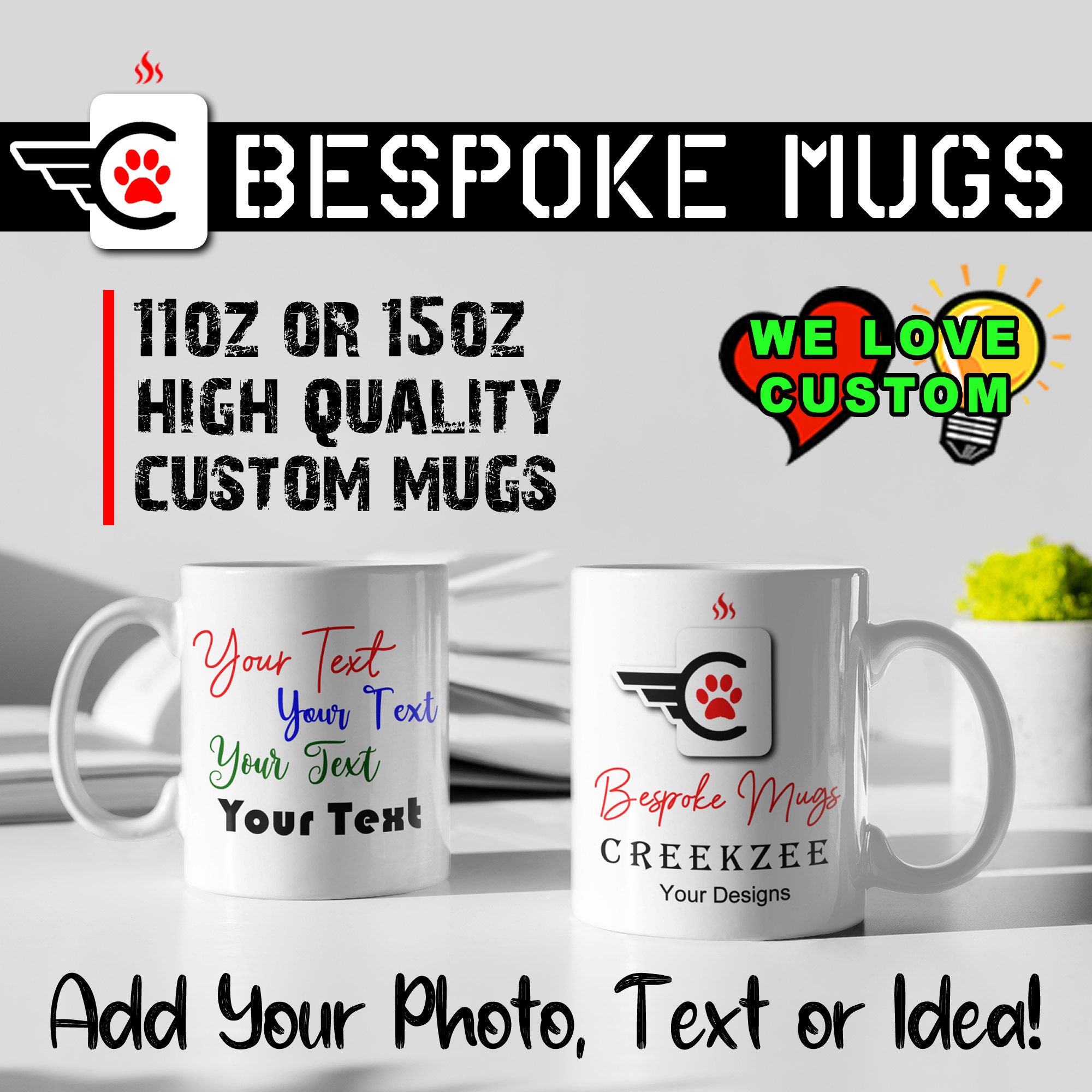 Check out our Etsy Reviews Below
Exactement ce que j'attendais. Les chiffres tiennent très bien et sont découpés avec précision -Michelle
I found it to be a bit smaller then I wanted. -Judy
These are great and just what I wanted for my apartment door. Many thanks! Warning - they took almost a month to arrive.
sticker keeps peeling off my car a bit but other than that it's awesome -portia
This is a high quality sticker! It looks great and it only took one day for the post woman to stop adding flyers to my mailbox! Thanks!
exactly what i ordered! thank you! -Sign in with Apple user
Great customer service. Contact seller with my ideas and asked if it could be done. Seller sent me 3 "mock ups" to choose from or make changes/suggestions. One of the mock ups was exactly what I wanted. Shipped quickly. Quality is very nice. Wouldn't hesitate to order from this shop in the future!
Vendor was exceptionally helpful, and customized my ridiculous request to perfection! 🥰 -Rowan
Great quality, fast shipping, super happy! Thank you! -m
Good quality, have purchased previously; only concern is that the colors fade quickly. -Jim
Great to work with for a custom order. Will use again in the future. -Lisa
I could convey my idea to them. We exchanged messages frequently to make adjustments. This magnet completely serves his purpose. People make a stop to it, being intrigued. It it funny to watch… Thank you again. :) -Cindy
Very pleased with the quality and how quickly it arrived. Exactly what we were hoping for, and a great addition to our home. Thank you. 👏🏻 -Yowtowndj
Very pleased with the quality and how quickly it arrived. Exactly what we were hoping for, and a great addition to our home. Thank you. 👏🏻 -Yowtowndj
Very pleased with the quality and how quickly it arrived. Exactly what we were hoping for, and a great addition to our home. Thank you. 👏🏻 -Yowtowndj
We absolutely love our decal. Super fast shipping and the seller even included an extra. -Barb
Communication and delivery time are great, the quality of the stickers looks good, but it's only in the mid-term that I'll really know after a winter if they stay stuck on the car. -stephane
Exactly what I wanted. Perfect. -Jennilee
Greg always provides good service as well as a beautiful vinyl magnetic stickers. I don't like stickers and he has magnetic options just remember to remove from a car if you're going through a car wash
Second time ordering and will not be my last! Best customer service ever!!!! -Kelly-Marie
Update: 5 star service I must say, I will be using the King of Stickers again. The quality is top notch, and customer service is amazing. Below I mentioned an issue that was 100% my fault, Greg reached out and sent me not 1 but 2 vinyl stickers so that I could have it on the rear of my SUV. I can't wait to roll around with my stickers, using them to promote a cycling challenge I do to raise money for sick children! Greg was great responding to my questions! The bumper magnet arrived well a head of the predicted date and the quality and colours were great! It hasn't moved from the spot I stuck it to. I am very happy with the item. Just a note if you have a RAV4 5th Gen, get the sticker not the magnet. The rear end is aluminum and plastic. This was my mess up, but the rear for my Subaru Imprezas works fine with it! -Ryan
My neighbor really liked it- will go on his truck. -Marilyn
Great magnet! I added it to my car decor.
I'm so happy with my purchase. High quality and exactly what I needed. Seller goes above and beyond. Will purchasing from this seller again! Thank you!! -organicallynicole
Great product as advertised. Thank you. -Douglas
Awesome and quality product! Thanks so much. -Tina
great service and products are great -Karbun
Great quality and sticks well to the car :) -Jasmin
Quality product! And it was a funny joke. -Krista
It's funny -Gavin
Love it ! -Margaret
Exactly as I expected. Great work. -Suds
Owners were so nice, helpful, and quick to respond! Product was amazing!! Definitely would order again! -Jessica
Great magnets Quick delivery Easy communication -Lisa
Fast delivery Great quality Great communication with Greg -Lisa
I can not say enough great things about creektee! Greg constantly goes above and beyond to help you get exactly what you want. I can use people in my area, and they may even be a little cheaper, but I know I will be happy with anything I order from creektee! -Kari
My bumper stickers came out great !... I didn't realize there would be so many, ... Bonus me ! :-) -Kathryn
Great product and fast shipping -Gerard Jaran
Great communication and quick shipping. My magnet was good quality and just what I expected. Highly recommended! -Caramel And
Cet article était en anglais au départ et le vendeur m'a offert de la faire en français. Il m'a fait lire la traduction, je l'ai modifiée et ensuite il l'a corrigée et elle était parfaite. 10 sur 10 The seller did everythink to make me happy and he was very kind and effective. Thank you! -Andrée
exactly what I had expected and ordered Great communication with Greg , fast delivery, reasonable prices will keep ordering -Lisa
Really quick, the seller messaged me with a few options which I appreciated :) -Asmara
Great quality, would absolutely order from here again! -Terri
great quality came super fast -Welchie
Love my magnet! Works great and have received many compliments! Thanks
Item was just as described. I would buy from again. -James
Greg worked with us to get a customized bumper sticker to both let driver's know about the new driver, but also to advertise our school as well. This is my second order, the bumper stickers from the first order are holding up well, through the new England winter weather and all. I definitly recommend Creektee as they do good work. -Jeremy
very good quality, good size!
Good customer service and sticker -Leo
I love it so much and came earlier then shipping date! Seller communicated fast and showed various options for my design! I recommend 9000! -Vanessa
Excellent quality and great size and colors. -Hermine
Nice product. Quality was less than stellar when given a custom hi-resolution PDF. Shipping and delivery were on point. -Amanda
Great purchase, five stars from me -Kim
Turned out perfect, thanks again! -Interstellar
I can not say enough great things about creektee! Top notch customer service, I put the pro in procrastination and Greg is so wonderful! Goes way above the line of "normal" customer service. Has idea's I'd never think of. I have others with whom I could do business with, even some in my neighborhood, but Greg's my go-to man!! 😊 -Kari
This has truly helped me. One glance and I back this trailer in like a boss! -Marla
I didnt get the item yet -דליה
Great quality! Went on my car very easily. -Kasia
Perfect!! CREEKTEE designed a magnet for my car exactly what I wanted! Thank you so much!!
Amazing magnetic bumper stickers! Made everyone laugh! The seller was super helpful too, with quick responses and fast shipping.
The two magnetic bumper stickers I bought were great! I'm very happy with my purchase. Everyone who saw them laughed, and I saw someone taking pictures of them! The seller was very quick to respond to my messages, and shipped them quickly in order to get them to me for April 1st.
They did exactly what I asked for - looks great, super magnet, and quick shipping! Can't ask for more!
Great communication and customer service - solid, great product! A++ -Eric
Great communication and customer service - solid, great product! A++ -Eric
They sent me like 6 of this sticker in different sizes. Looks sick on my car, 10/10 -Madison
Exactly as pictured, solid magnet -Veronica
Fast reply and shipping. Excellent quality. -Vanessa
Great! -Stacey
Fantastic in every way. What a great stencil. -Chris Glidden
It's simple, thin numbers. As if made of black tape. It's about the thickness of 2 sheets of paper. -Rabi
Great t-shirt, exactly as described, good quality and well packaged. *❀✿•Ƹ̵̡Ӝ̵̨̄Ʒ•✿❀* THANK YOU *❀✿•Ƹ̵̡Ӝ̵̨̄Ʒ•✿❀*
Greg is very helpful in the design process of the bumper stickers. He presents layout options, giving the purchaser a choice in how they want their customized sticker to look. He is also very quick in responding and providing feedback, as well as delivery of the items. This is why I have ordered several times from CreekTee and Greg. -Tracy
This is great. I bought extra, just in case the numbers change. -H.
This is my FAVORITE STORE! HIGHLY RECOMMEND! -Xercis
excellent quality, fast shipping and fun surprise extras! would highly recommend
Great magnet for my car! High quality. Shipping took a while but it came when expected. Would definitely order from this shop again!
Love the Ukrainian magnet...showing it off proudly -Maria
LOVE my magnets and stickers -Maria
Very cute and well-made magnet! -Terese
I AM THE LIQUOR. Amazing service , super quick turn around. Will buy from again when I have another dumb idea for a bumper sticker. 5/5
Good quality, sized perfectly and look good. Maybe helpful with some hints on how to apply? -Jim Baker
Greg spent a lot of time customizing this order to be just what I was looking for and it came out better than I could have imagined. It is FANTASTIC ! Would recommend Ctkos to anyone looking for a great experience. -Jonathan
Really strong magnets. They stayed on my front door in the winter during a high wind storm and didn't budge! Very happy with this purchase. -Rachel
I love this magnet! It is not thin or flimsy. I felt confident placing it on my front door. I love the two pack! I kept one and gave the other as a gift. Item is as described. Excellent quality and packaging! -Jocelyn
I love the two pack! I kept one and gave the other as a gift. Item is as described. Excellent quality and packaging! -Jocelyn
These are fun and highly magnetic. We have the most festive mailboxes in Cape Elizabeth, Maine. Thank you so much. -Elisabeth
This is what I wanted to add some zest to the 3 mailboxes at the end of our driveway. Its a fun way to celebrate the Valentine season. Thank you. -Elisabeth
These are exactly what I asked for. Perfect for Valentine's Season. -Elisabeth
Fast response and good quality. -Makayla
They looked and worked just like I wanted them. Plus, they sent extras!!!
exactly as expected, and my snake loved it- its not like he can read that hes being called stupid!
Great. Works well on my metal door. -Rodger
I needed a custom order that has previously been refused and I honestly couldn't ask for a better outcome. I got drafts to pick from and turnaround was super fast. I didn't realize it was out of country until it shipped and it still got here well before I needed it. The quality was also really good. -Imari
These are great and helps to keep this critical geopolitical crisis in people's minds. Everyone should #standwithUkraine -Jim
awesome thank you...people are asking me where I got them -Jim
Got as a gift, they loved it. -Nick
does the job. a bit narrow. can find magnetic sheets at any office supply store. -Rada
I was very happy with the wraps I received... I got them made for my husband as we lost our dog a few months ago, and this is a great way for him to see his favorite picture of the two of them every day... I highly recommend this store, and I will definitely order more. -Natty
LOVE THEM!!! THANK-YOU SO-SO-SO MUCH!!!!!!! My customers see these, and it's actually picked up business!!!! :). SUPER SELLER, HERE FOLKS~! NICE, HELPED, SHIPPED FAST AND WAS SO SWEET AND GENEROUS!!! YAY~! -Kat
Great communication to get the design exactly right. Quick turn around, and quality product. Would definitely consider ordering again if I need/want something in the future. -Denise
Fast delivery and the mugs were exactly as I imagined! Quality job, and Greg made them the same night I ordered. He's a true professional who goes above and beyond, and I would recommend his shop to anyone looking to get some great gifts! -Alicia
Great quality. I needed several letter/number combinations to place on metal feed bins for our truck drivers and these were perfect for what I needed! -Natalie
We love our magnetic heart!!
Worked looks official thank you -Maebyn
They were so kind & fast to communicate with, and were able to personalize my bumper magnet to perfection!! -Ri
I sent in a design, came out exactly how I wanted. The creator was very effective and had great communication. Good vibes :)) -Nicole
owner worked with me to get it just right. love it.. i will come back here when i need another magnet. its perfect and sturdy enough for the car. i rate this seller A++++ on a scale of 1-10 this shop is an 11 -Lori
Got my order and it's perfect!!!! The seller was very helpful and answered all of my questions. I would definitely purchase more in the future ! -Insparktees
Soo happy with my bumper magnet. Great communication with the seller. -Laura
My first Etsy experience could not have been better. Seller was attentive & thorough, and the package arrived quickly. The stickers were better quality than expected. Highly recommend. -Cooper
So great! I get comments all the time when I go out. -Kristy
This is my second time ordering from this shop. Communication is excellent and they created exactly what I wanted. Prompt delivery and a quality product!! -Sumer
Great quality sticker will order agin -Cherie
Seller was really nice and helpful with my questions and provided advice/suggestions to maximise the number of single-use stencils that would fit on a sheet. I wanted the stencil to paint my son's name on his footballs (i.e. soccer ball) but the stencil adhered very poorly to the surface.
I have not received this item yet but, I've purchased from them before. So I obviously like there work -Jo long
The magnetic bumper sticker I ordered is great. It looks fantastic and sticks well. I get a lot of compliments. Speedy delivery too!
Excellent quality and impeccable customer service! -Rob
Fast shipping great quality ! I love it -Aayla
Excellent seller.highly recommended -Chris
Always a pleasure to work with this shop. -Juliet
cute!!!! great for a joke gift! -nancy
i love this sticker it's good quality and it always makes me giggle when i see it! the shipping was good, it got to me really fast too!
Will be fun on the our door -Dawn
Seller was awesome! Very kind and gave me just what I wanted 🤍 -Christine
Thanks! It's just what I wanted! -Samantha
Just love these gnome stickers. Such vibrant colours and very quick shipping. Thank you Greg! -Marguerite
I liked this so much, I bought a second one. The seller is wonderful to work with. -Judy
Greg is amazing at doing custom stencils and will answer any questions you have!! Best service I ever had! -Ashley
Seller is amazing and fast!! Thank you for the amazing bumper sticker you created for me :) -Kat
I love to make these to put on my car. -Cholena
I did not want to ruin my car's look with a cheap generic sticker just because my son started practice driving. The CREEKTEE sticker was on point! You can see the difference. Hope it will last long. -Akiko
Looked great and provider was great with communication! Thanks! -kendall
She loved the funny gift- thanks! -kendall
I just wish I could have gotten it faster, but dems da breaks... -Dave
These magnetic numbers looked exactly what we were looking for after installing a new mailbox and they are very nice. They are so much better than the typical stick-on numbers you can find at a hardware store (which we had on our old box). The 3" white numbers are very easy to read and give our large black box an elegant look. We were a bit concerned they wouldn't stick well to the corrugated metal, but they worked fine and have stayed in place after our first of season wind and rain storm. They are made out of pliable yet sturdy weatherproof material with a magnetic backing and we like the classic font. A big thumbs up from us! -Theresa
Awesome service! Hope to be able and use them again! -Debbie
Love my sticker! The shop really took the time to realize what I had in mind and it came out better than expected! -Rémi
super cute and funny -Ella
I can't even begin tell you how much convenience these have brought us. (our rented town home number is black on a dark brown building) 🤦🏻‍♀️ No more delivery mishaps, or confused calls from the long lost pizza man lol. Two bright white sets of these bad boys for our front and back door - best purchase ever. And they look really cute. Thank you! ⭐️⭐️⭐️⭐️⭐️ -Jess
Perfect! Just what I've been looking for. Delivery took a little longer because it came from Canada, but worth the wait. Thanks! -Elona Kisala
We used this stencil to make 25 t-shirts. It worked great for each and every one. Thank you for working with our custom design! -Leticia
Item exactly as described. Secure packaging. Highly recommended seller. -T.
I feel so proud to be able to make a sticker with my cause on it. I feel so original driving around town! -Cholena
Awesome quality, and amazing shipping speed. Will be ordering again! -Rachelle
Hell yeah, exactly as stated. -Shelley
I thought my robot vacuum needed eyes. These were perfect! Quick delivery, and item as described. -Shannon
Excellent thank you, great communication. -Sarah
The product was greater than expected. They look great, and i will definitely get more in the future when I need replacements -Daniel
as expected and great communication -CherrybtheKat
Got this for a friend for her new car (since her old car had it). She loves it and now I can tell which car is hers on the road XD -Victoria
I'm stoked about the lighter skins. They feel super durable and so far have lasted some pretty aggressive in-purse action. Seller was super efficient and the purchase was wrapped SUPER well. Will be shopping again - recommended to all my friends….now nobody can BIC me -Raya
Nice large magnetic numbers for a mailbox. Sticking great so far (4 months). -Kristen Somers
Excellent store, sticker was exactly how i wanted it to be! -Lena
Awesome magnet! Super high quality. Amazing clarity in the printing, and great finishing. Magnet holds very well, I've been driving a combination of start-and-stop city driving and highway driving. The magnet has been 100% secure. I highly recommend this product! -Michael
Great job 👌 THANKs 👍 wonderful color and strong sticking magnetic 🧲 Love it -SamanthaDaelene SmithMiller
Very fast shipping, very friendly service & very pleased with what I received! My 1 year old loves these animal magnets & so does mommy! -Ashley
I put these on my robot vacuum for fun. Love them! -Shannon
Very friendly and accommodating. I will definitely do more business with this company. -David
Amazing magnet! They were quick to respond to my messages and edit requests and the magnet came out perfectly. It was the best size and great quality and color. I will definitely go here first for any more customized magnet needs. -Bluann
Very nice. Thanks again -Juliana
These work great on my mailbox! I even have a mailbox cover on it and they still hold! I love the color and quick shipping! Thanks! -Julie
This customized bumper sticker is great! The seller was amazing: very helpful and professional every step of the way. I appreciate it! -Judy
Get yours today you won't be disappointed -gloriqua
quality was great but shipping did take like a month so just keep that in mind. but my friend loved it! -juliauna
Arrived way earlier than expected! We used them for a baby announcement for our family - and it couldn't have went better! Highly recommend. -Tristan
Love my personalized mouse pad. It adds a nice touch to my office and desk. Nice non slip backing. Shipping to Ontario took longer than anticipated. -Shawna
Great product, great seller! I wanted something customized on a lottery ticket after I had already placed the order, and seller included these extra in my order without charging me a penny. Very happy with my purchase and experience with the seller. -Bhavika
Absolutely perfect for my vision -Sharon
Took a long time to receive them. -Deanna
Took a long time to receive them. -Deanna
Took a long time to receive them. -Deanna
Took a long time to receive them. -Deanna
Took a long time to receive them. -Deanna
I asked if I could have the background image as a bright pink, and the seller sent me a color sample for approval before sending me the magnet. It looks great! -Lauren
Perfect--exactly what I ordered and excellent service, if you don't include Canada Post! -Terry
Fabulous product. Exactly as advertised. Very impressed Really like that it's Canadian. I still need to cut it to fit with handles -Sarah
Great to work with, arrived in good time & just what I was looking for! I'll try to post project pictures when it's done! (vinyl stencil for glass etching project) -Jena
Great quality prints, stickers are huge and vibrant and look great -SHEMPIMITE
Well made and very funny. Arrived very quickly too. -Rylee
The placement of the image and how it was cut was horrible, parts of the picture were cut off. Seller is replacing items, great customer service. 👍 -Kelly Young
Phenomenal seller, the BEST on Etsy! Seller, items, and experience all exceed expectations! -Xercis
Very well made. Exactly what I wanted. Should last a long time. Thanks -william a powell jr
The numbers were perfect, exactly what I wanted. They also got here much faster than I had expected. -Susan
This seller was so good to deal with. I accidently order this item twice and the seller refunded the second purchase for me. This item is working so well as a food delivery sign that other ubereats people have asked how to get one for themselves. -Mia
Love , love , love my custom magnetic bumper sticker !!! Great job!🤗. Thank you ! -Deena
Great item came quickly -Deb
Excellent quality! Quick service! Definitely ordering again! -Lynda
This door handle sign was made just the way I wanted. -Antoinet
Exactly as advertised. I got the 4 inch numbers and it fits perfectly at top of door. -Cristina
Back! For second time, just what i asked for -Cheri
Gregg is the best! He design what we needed quickly, great communication throughout the process, excellent quality products. -Elsa
These magnets are working well! -Sophie
Hilarious and so much fun!! -Rose
Paper stickers! Not magnetic like advertised!
Sent a message to Greg wanting to order the same item that I had purchased in the past. He was able to pull up the previous order and make me another very quickly. I highly recommend this shop. Great products and customer service. Thank you Greg for all you do !! -Linda
Love it. It's on the car now, ready for a fall trip to Nova Scotia . Thanks 👍 -Sandy
I absolutely love my magnet signs for the back of my manual transmission car! The customer service is outstanding, efficient, quick responses & produced the exact custom magnet I requested! I can't say enough great things about this business and best of all, they are local & I love supporting local businesses! Thanks again for everything!
Not as much as I thought -Lisa
Custom order. I had many questions that were politely answered. The order was exactly as I requested. The sticker arrived a full 2 weeks early and even more sparkly than the picture showed. I will use vendor again. P.S. Only use this vendor if you want quality work, that you design, and VERY reasonable prices (& maybe your product will arrive as early as mine did!). 😁 -KELLI
Fast shipping. Great item. Thank you. -Robert
Love the service and product -Deborah
Understood what I wanted and nailed it on the first try. Speedy delivery. Solid magnet. DO IT! -M. M.
We ordered 6 of these to go all around our car! Great quality, very professional and timely on the delivery. -Rachel
Nice eye sticker. -Bill Shirey
Extremely helpful and responsive, it came out just how I wanted -Jonathan
Very good quality. Love them. -Gabrielle
Product matches description. The quality of the decal is great. -Keith
fast shipping and great quality
The seller is awesome! Very responsive and helpful. I ended up purchasing two different orders, one was a custom order and the quality it perfect! My mailbox has never looked better! -Colleen
Fantastic seller! Great with communication!
Perfect! Thank you so much! -Kimberly
Quality of stickers matched the description. -Melanie
Love it! -Tonya
Looks great, gets comments all the time -Taylor
Slava 🇺🇦! The little magnets have held up against rain and mud! So happy to have on my bumper 💙💛 -Laura
Slava Ukraine 🇺🇦 -Laura
Love the huge magnet. -Keli
Great customer service and great communication. The product is fantastic! -Helen Caraballo
Perfect solution for my new mailbox since I didn't want metal numbers or rectangle decals of black numbers on a white field. Thanks!
Good quality and powerful magnet. Love it -Ashley
As described -Patrick
Fabulous work was just what i needed for my project, will definitely order from them again! -Cheri
Awesome Customer Service! Quality Product! -Deborah
Well done ribbon and matched the description. -D Wright
Would not stay on mailbox☹️
love Creektee! I've bought magnets (for my car as I don't put sticker on it) and the quality is great! I made a spelling error and Greg, contacted me, to double check what I wanted. I've purchased mugs, unfortunately one was broken during shipping, not a minute went by and Greg told me another would be on its way. CreekTee is amazing, customer service top notch! I'm planning my next purchases already. -Kari
Great communication and quick turnaround from design to shipping.
Just what I needed while teaching my son to drive in traffic with my manual shift car. Super quick shipping as well. -Marceline
Fantastic and very high quality! -Hayley
This company is amazing! They go above and beyond the customer's needs. I can't that you all enough for my new car LA Galaxy magnet. -Guadalupe
The sellers were fantastic! The magnets are great and they were so helpful and obliging when I asked for something specific. I'm already going to place another order! -Victoria
The sellers were fantastic! The magnets are great and they were so helpful and obliging when I asked for something specific. I'm already going to place another order! -Victoria
The sellers were fantastic! The magnets are great and they were so helpful and obliging when I asked for something specific. I'm already going to place another order! -Victoria
Exactly as described and photo'd. Shipped quickly too. Highly Recommend! -Emily
Very happy with our order - matches my Jeep perfectly. Thank you -Angela
Have purchased from this shop before - great items, no complaints. -Doreen
Have purchased from this shop before - great items, no complaints. -Doreen
obsessed with my new bumper sticker. a friend saw another car with a similar sticker, took a pic and sent it to me & I immediately started searching. It's perfect. The most "me" thing I own. And the quality is awesome, it really sticks - stayed on thru literally 20 car wash trips and all types of Georgia weather. Perfff -Sign in with Apple user
Very nice decal, happy with my purchase , no issues and just a little way to give my support for Ukraine 🇺🇦 -Marilyn Corda
Worked great for mailbox, spray painted nicely. -Belinda
Beautiful east to use. Very happy. -Michelle
Beautiful stickers! Very good quality at a great price -William
These are a great answer to easy house numbers for those that have a metal door. I really like them.
The shipping company made a mistake, but CREEKTEE service was great in getting this sorted out for me asap. -GGB
nice solid decal and fast delivary. -Jo.
The seller helped me create a custom vinyl magnet that is great on my freezer. So happy with the result! I highly recommend this seller. Will buy from them again. -Erika
Great, received soon and magnet affixed to metal door just fine. -Rosemary
Beautiful, large, vibrant and a very strong hold! I put this on the back of my car, it it looks great. It's been through 3 car washes now at the local Quick-Quack and hasn't faded or budged. Highly recommend!
It is perfect 😍 -Mary
Exactly as described. Attached to my garage door with no problems. The numbers look great. -Lois
Finally, a bumper sticker for ME. -Victoria
Positive transaction. Thanks so much.
Positive transaction. Thanks so much.
Really nice product and good quality. -Edwin
I purchased these with a customized prize for my husband for Valentine's. I was very pleased with the product and the shipping was expedient. I was pleased and my husband enjoyed the product. -keisha
Great quality, just as described. This helps a lot when I am running deliveries so I don't get a ticket. -Christina
Great car magnet. Great communication. I have gotten a previous car magnet made from this creator, same quality as the last one. Fits just fine on the fear trunk, laminated, water resistant materials. -Daniel
I ordered magnetic numbers for my garage. The seller shipped my order immediately, and the product exceeded my expectations. I have recommended the seller to my sister, who now, is another satisfied customer. I wish I had known about this product sooner. I will definitely order from them again.
Excellent quality item, shipped quickly, by excellent sellers. Highly recommend! -Erika
Thank u -Janae
Love the saying and had to have a magnet.
These numbers are perfect for my mailbox! Easy to apply. Good quality. Highly recommend. -Andrea
Bends a bit but still works -Ivan
Item arrived exactly as expected! -Becky
Outstanding product! Great communication! Thank you for a super Etsy transaction! -Rog
Mugs sublimated beautifully!! But really wish the mugs came in mugs boxes for customers. -Jenn
Love love love it!!!! Exactly what we wanted -Bethany
CREEKTEE sent both a magnetic and a vinyl set of signs to be sure they would work on the item they were being attached to. They worked great. Would definitely buy here, again. Nice customer service. -Allen
It was a top notch job, quick delivery and superior quality. -Margie
AMAZING Seller! The best I've ever purchased from. Absolute HIGHEST Recommendation! -Xercis
My second time ordering from them and it's always superb products. 💚 -Eunnie Lush
Great personalized stickers and response to questions was less than an hour....then best!!
The magnetic numbers are great! I ordered 4" numbers in black and put them on our white front door. They are easily visible from the street. -Valerie
It was a gift to my brother. -fred
As described, came quickly. Love these on my VR headset! -CINDY
Always a pleasure working with creektree -Beth
Very well made. I have a black car, and the black bumper sticker with white lettering looks like it's part of the car. -Tracy
Bought it for a christmas gift and my friend loved it :) super good quality -Angela
I was so impressed with the customer service and support i received upon making my order. Not only did the design of my order exceed my hopes, but they were so expeditious with responses to my questions. Highly recommend! -Megan
Great size! Put them right on my door! -Valerie Martino
This THE BEST SELLER I've ever worked with ANYWHERE! -Xercis
Great customer service (: Thank you! -E.
I had a great experience with a custom made magnetic bumper sticker. Great communication that was very kind. -Renee
Great quality and looks great!! Can't wait for the weather to not be so cold so I can apply my new stickers to my car! :) -Thea
I thought these stickers were a brilliant idea ,if you have pets in the house and something were to happen ,Emergency Services would now be aware they needed to be rescued, Perfect ! Quality stickers , fast dispatch, I'm really happy 😃
Very good experience and good quality product.
Perfect, just as described!!
gave it as a gift for someone. they loved it -Tiffany
The bumper stickers I ordered arrived in a timely fashion and looked great. I was worried that the pictures I wanted on them wouldn't look good once put on a sticker. But the shop owner was SUPER kind and helpful. Really FANTASTIC customer service and the bumper stickers ended up looking great! Very happy with my purchase -Nicole
GREAT ! Thank you. Best yet. -John
All Great !!! Thanks much. -John
Fabuleux comme idée cadeau, effet de surprise garantie ;-)
Extra !!! Je l'ai offert à mon fils qui venait d'avoir son permis et il a adoré . Rapidement et soigneusement envoyé, je recommande. Merci
Perfect!
Item is okay, nothing great. Fine for a typical boring mailbox. I'll use them until I can find something nicer. -Jane
Really happy with the final product. Couldn't have asked for anything more.
Fantastic customer service and product. Explained everything to me and got me exactly what I needed. 100% recommend and will purchase again in the future -Dejan
The quality of the item was perfect and both matched the description of the item and performed just as we hoped. We used it to post notices on windows so there is no sticky residue left as there is if you use tape. -AFPPOA
I never received it.
Fantastic, high quality magnet. I had been looking for this saying as a magnet for awhile because I had only been finding it as a vinyl decal, so it was great to find this shop. Very pleased with my purchase! -Lena
Works perfect! Thanks, Happy holidays
yes my expectations were met -F
JUST WHAT I WANTED!! THANK YOU!
Great seller, great product, thumbs up! -Chris
Amazing sticker! -Eunnie Lush
Great quality, exactly as described. Have purchased from this shop before, and undoubtedly will again! -Doreen
High quality magnet, easy to see on my front door. I'd order from this seller again. -Robin
Perfect! The newlyweds love it!! -Jana Ethington
Amazing company ! Highly recommend ! -Jenna
Exact what I was looking for. Great quality, fast delivery. Best bit... A free one 👍 -emma
Super fast!!! High quality and came as described in my note to seller. Definitely will buy again!!! -Ammonite.era
OMG! The bumper sticker I ordered came lickety split and the design was flawless! -Rhoda
The seller worked with me to create a product I'm extremely happy with! I highly recommend this seller! -Xercis
I ordered a custom magnet and the magnet came out above and beyond my expectations. Seriously great craftsmanship and customer service. I get lots of compliments on my magnet and people asking where I bought it from and I direct them to here. You're paying for high quality product here! I highly recommend if you want a custom magnet or sticker to buy here. Thank you ❤️ -Justice
I bought this magnet for my apartment mailbox. It fits well on the top flap. I'm pleased with my purchase. -Nikki
Excellent customer service! Love the items I received. One of the best Etsy sellers I encountered! Thank you again! -Glenn
Excellent customer service! Love the items I received. One of the best Etsy sellers I encountered! Thank you again! -Glenn
xx xx xx xx thanks. -Barbara
The shop owner messaged me right away to confirm sizes and not too long after to show me a sample! Very easy to work with and so very accommodating and friendly :) -Natalie
Amazing customer service, items are cut out and look very professional
It is exactly what it advertises and it's great. One thing to note is that people will mess with your bumper sticker because it's just a magnet and can be easily moved. -Maya
It's perfect! Thank you! -Laurel
Greg is a great guy to work with. He took my idea and made it even better!!
A great seller to work with! Would not hesitate to buy from again!
Items delivered were precisely what I asked for. Very patient with me as I changed my mind, more than once and then production and shipping was spot on.
These bright white numbers hold fast to my mailbox and look great. -Jsalsbury
Fast shipping and exactly what I was looking for. I've the magnet on my car for a few days now and no complaints! -jessica
They worked so hard getting my request just right! Highly recommend this company! Quick responses and great customer service!! -Beth
Greg of Creektee was very helpful. He showed me designs he did for me before they were printed. Each design was what I was looking for. I am very happy with the helpful & professional service I have received. -Maryanne
Funny…things you don't see! Would order again from this company! -Lorri
I had one of the 10 x 3 magnets made so I can stick it on the whiteboard in my classroom. That way the kids can always see my name, but I can move it over if I need to. The product came out beautifully! I am so pleased with the results. They were really helpful and answered all of my questions in a timely manner. I highly recommend them! -Loreen
Great to work with! Good eye for design and content!
Super to work with! Great eye for design and content!
Thank you, looks great and arrived fast!
great quality and fast shipping! -Gracie
Greg was SUPER helpful and generous in personalizing my design - highly recommended! -Melanie
Very well-made products and they arrived on time. The items were smaller than I realized, but that was my fault for not checking the dimensions. I got a sticker and a magnet, and both seem very durable! I love the glossy finish on them both. -finishyourthought
Worked with me to ensure my project turned out right. Fast turn around and great communication! -Rod
Quality service & Product! I requested a personal touch, which I anticipated to be a challenge...but they met my request, and shipped it FAST. I HIGHLY RECOMMEND! I will be back! -John
I'm obsessed with this decal! Looks great on my vehicle! Easy to apply and makes me smile every time I see it! I hope the cars behind me love it too!! Great colour and quality! -jac
The item was printed legibly and dark, liked the color background used, overall quality is great. -Julie
Wasn't happy with the size could of been a bit bigger. -Kyanna
Excellent customer service. I got an eye catching design for my bumper sticker. Excellent communication. -Elsa
OBSESSED WITH THIS. Thank you!!!! -Gillian
Love this so much hahah -Gillian
The Pet Alert magnet is perfect! Shipping was very quick too. Thank You! -Patricia
Greg at Creektee was promptly responsive and the personalized mugs, with both writing and photo, turned out excellent. His turnaround time was very quick. -Craig
Husband loves it!!!!Just as described -Tabatha
Exactly what we were looking for. Seller quick to reply. -kelly
Very high quality, super impressed! Great service & fast shipping. Thank you Creektee! -Barefoot and Braids
My purchase is so perfect for face mask 👍🏼 too the company may God bless your company thank you -Stellea
Everything about the transaction has been beyond ideal. The style of design, the communication; unreal! The communication was consistent, quick-responded and Greg makes me feel well understood. I appreciate the attention to detail with my unique requests. If I asked for the stars he brought the moon. It would be amazing if more business had the flexibility and understanding that this owner displays. I'm happy in our exchanges and with the products delivered. This has been the best transaction exchange in all my purchase history, dating back to early 2000's on eBay. Thank you again, looking forward to placing my next order. -Babe
I'm a repeat customer, & I'll keep buying here in the future! -Betina
Great item, just as described with a personal message! A+++ Seller! -Barb
I ordered a custom sticker and the result is a high quality bumper sticker that arrived quickly! -Janise
Exactly what I wanted! Thank you! -Alaina
Awesome magnetic number for my front door! Thanks so much!
Already purchased a second one! Great quality! Great products! -MSC
I'm a female working on a male dominated trade site. These turn A LOT off heads to say the least. Love'em. -Mel
Customer service 10 stars Quality 10 stars Shipping 10 stars Expertise 10 stars Other 😍 10 stars Overall experience: ALWAYS a pleasure and a delight to do custom with Greg. He will always get our custom. Greg, you and your team are the best!!!!! 🌟🌟🌟🌟🌟🌟🌟🌟🌟🌟 -Zadie
The gnome stickers are so cute,vibrant colors and very well made!
Greg reached out to me the day I ordered because I failed to include personalized information, excellent customer service response! The stickers are well made and the colors are vibrant! So very pleased with my purchase.
Well made, vibrant colors and very prompt delivery! Thanks
The magnet turned out exactly the way I was hoping it would, great communication through out the entire process and arrived quicker than expected ( Canada to Maryland) . I have no hesitation in saying that I would definitely buy from them again and recommend them to anyone looking for custom magnet/sticker.
The custom order was perfect - really appreciated the attention to detail and working with me to get exactly what I wanted! Great customer service! -Rachel
Amazing customer service! Exactly what I wanted! Great custom work! -Laurel
Exactly what I asked for!! Thanks -Todd
Excellent communication with seller/creator. Speedy shipment, excellent quality car magnet. Overall, a terrific experience. Thank you! -Juliet
The sample that I emailed to the seller exceeded my expectations. When I received the magnet it's a carbon copy of what I sent via email. I highly recommend this seller. -Aileen
I love them. Exactly what I wanted! -Claudia
my magnet received in timely manner and it's great. i love it - thank you! -Cali
Great service and quality products! Look no further -Salvador nunez
Nice, shiny and sleek looking decal. Very clear and crisp lettering, too. My fault for ordering it too small; I wish I'd gotten it bigger. The only complaint, is that due to the plastic covering on it, it was very difficult to get air bubbles out of the plastic, even though I had a special tool for doing so. I still could not get quite a few of them out, so the decal is not very smooth on my bumper. Great customer service though, and it looks pretty good. :) -Tippy
Perfect! As always! -Betina
Everything was as described. Thank you. -Rene
exactly how I wanted it. designed and shipped quickly and came with an extra. will be purchasing from again! -Greg
Good quality, fast shipping. Would recommend -Liz
Great product, Great customer service! Provides proofs before making the real deal and gave several options! -Cortnye
Love the decal.....just wish I ordered a bit larger in size. -kim
AMAZING!!!!!! Super Quick! Love it! -Jennifer
My bumper stickers are just perfect, love em…. -Agatha Free
Greg is an artist! He not only help me get to get the design right but then make sure the added flag I needed on it was included. It's very important to him to give the customer exactly what they want and the products are just amazing! I will buy from this seller again and again and again! My son wanted a bumper sticker that said I live in Colorado but my heart is in Texas with the Texas state flag on it. Greg really took his time and made the design work perfectly. My son is so happy with that he didn't stick it on his bumper he put it on his rear window! -Sharon
as expected, but price seemed a little high. was surprised the thickness of the numbers was so thin -Fred
Wonderful, exactly what I wanted. Thank you!
We're grinning from ear, Thankful our package got here. Yaaay! Creektee delivery made us smile, For Greg delivers every time! Quick shipping, Highest quality, excellent customer care We will continue to do our custom stencils here!! Best in price, eager to please. Thank you with all our hearts. Totally satisfied! Above and beyond. Ten 🌟 🌟🌟🌟🌟🌟🌟🌟🌟🌟🧡🤗 -Zadie
Greg was quick at responding to my questions. I got exactly what I asked for and I am very pleased with my purchase. Shipped when expected and arrived shortly after. If I ever need more custom stencils, Greg's shop will be my go to. -Melissa
These turned out wonderfully, good quality, great price and company was easy as pie to work with. I gave them ideas on what I was looking for and they came up with the design and layout and did not charge for that part. I bought 350 magnets for my organization and the price was very economical. The project was completed and sent in a timely fashion as well. Would work with them again. Support small business! -Julie
Husband loves it. Great quality. -Jade
Beautiful colourful magnet! Shipped fast , looks amazing -Vanessa
Brand new as a Cricut owner and these filled an almost immediate 'must have.' -Sheri
Great communication and I love my sticker...will be ordering more -Gail
i got exactly what I envisioned and they sent me 2 extra stickers. great communication and customer support! -Sydney Ann
i love it SO MUCH!! perfect size and everyone thinks it's hilarious. 10/10 purchase -Ella
Thank for the doll template 😁 -Antonia
Item was exactly what we needed. -Rene
You are Wonderful!! We are grateful. Great price, quick shipping. Totally, utterly, absolutely 200% Satisfied. Will buy more from this shop. Definitely. Thank you Greg 😊 -Zadie
Brand new as a Cricut owner and these filled an almost immediate 'must have.' This is my second set. -Sheri
Absolutely perfect!!! -Cheyenne
Good quality - love it is perfect for what I needed! -Linda
The ILY rainbow decal is perfect!! I'm thrilled with it.
Perfect in every way! Fast and On point customer service. -Gerardo
Exactly! what I wanted and (bonus) arrived much sooner than expected. Great communication as well. Very, very happy to have found this and happy with the present I used it to make for my sister. Thank you -Lydia
Excellent quality and superb customer service. Would buy again (anything) from this seller if the need arises in a heartbeat. Have already referred the shop to many other courier workers and they love what they've seen. -Snow
These are great to have for new drivers so others can be aware they are in training -Melissa
Best decal shop!!! Will definitely return again and again!! 💯 -Terry
Speechless!! Loved!! Speechless!! Loved!! Greg offers the highest quality, variety, product--AND customer care. You will be absolutely thrilled, fulfilled when you do your stencils here. Workmanship and detail is always tip top class. His expertise, abilities, furnishes your projects with pizzazz!! You will be delighted, excited, and this is no jest, Cause Greg and Creektee are second-to-none the BEST!!! 🌟🌟🌟🌟🌟 🌟🌟🌟🌟🌟 -Zadie
There was some mishaps, but the seller is extremely fair and more than willing to help. And the stickers are top quality and I received an extra set. Thank you again :) -Amanda
Fast response, easy customization, great service, product exceeded expectations. -Nerissa
The pet alert sign was exactly as described and is of very good quality. It is perfect for our needs. It also arrived very quickly. -Sherrie
Love this magnetic sign for our homeschool cart! Greg at Creektee gave us lots of design options and even created an extra long magnet to better fit the space on the side of our cart. We love it! -Aimee
As always, working with Creektee is wonderful. I was not rushed when searching fonts and or reviewing proofs. Creektee worked with me patiently until the design felt right! I highly recommend this shop and will be working with them again! -Lauren
Great quality and the colors are nice and bright for other cars to see.!! It was exactly what I wanted and got. Thank you for making quality products.... Robin -Robin McMullin
A+ Quality! A bit smaller in size but great quality. Will recommend!!!! -M
great quality! the seller was very communicative, and it arrived pretty quickly from Canada. all in all very pleased with my purchase :) -Ryan
It's awesome and actually stays on my car even during strong winds and rain -Madison
I love the stencil! Greg was so easy to work with and answered all of my questions! I would highly recommend him and his products. -Tracy
absolutely wonderful. great customer service, high quality product that came as described, if not better, and shipping was very fast ! would recommend to anyone interested in their services :) -Ellisha
Arrived super quick! Really nice bright colours, love it :D -KidCitizen
Great price, shipped quickly, thank you. -sherry
Awesome experience - Highly recommend!!!! -Terry
Great customer service very flexible with my order ! -Carolyn
Love it! Wouldn't fit on the back of my day ride so I put it on my '68 Camaro and have received many chuckles and thumbs up on the road! Quick shipping a bonus! -Yvonne
The seller was patient, helpful and produced a beautiful product. Definitely 5 Stars! -Barbara
Quick response, great customer service. My order was perfect. I'm definitely going to order again. -Jeremy
Excellent quality, better than/as described, above and beyond, exceeded our expectations!! Superior customer care, skilled expertise, Fast, friendly service and shipping, 10 🌟 out of 5 🌟 😉 Thank you ever so much for the fabulous custom stencils. Thank you for the freebie. You are the best. Appreciate, Appreciate, Appreciate you! Did we say You are the best 👌👍 Do your stencils here. Par excellence bar none! -Zadie
Exactly as ordered. Quick response & shipping. -Sheila
High quality magnet, exactly what I was looking for! As an older, timid new driver I will feel safer driving with this on my car! -Amy
Love my stencil! It was exactly what I was looking for! -Corie
Smooth transaction, I would buy from them again -Andrew
Great job !! Great product!!! -Karine
Awesome quality and customer service! Thank you! -Paula
Fast shipping! Great quality! -Sheryl
Great job on my sticker. Handed them out to people. -LORI
This is my second purchase from this seller. The quality, time to ship, and communication is perfect. I'll definitely be a repeat customer! -Kimberly
Great sticker! Thank you so much! -Nicole
They fit well over the vents and they look great too. Thank you for the fast service and great product! -Danielle Rogers
This is very nice conversation piece. I ordered two of them... -fred
Custom made magnetic bumper sticker. A gift for bro and he loved it
Responsive, and fast! Thank you! -Julie
I LOVE my custom magnet! It's perfect! It's so hard to find the right Save The Elephants magnet so it was great to be able to design one myself. -Jaclyn
beautiful little skull pins to adorn many jackets!! just perfect..
Another Fantastic Creation So I'm Very Happy & Thanks Again Very Much . Excellent Customer Service 👍👍👍❤️✌️😊🇨🇦 -Candy
I'm always extremely pleased with this seller and their products! I'll be back! Thank you! -Rose
great service and stencils are always exactly how I envisioned them! would highly recommend it! thank you -Cassandra
Stencil worked perfectly. Great service, thank you! -Roy
Good quality product. Great customer service. -Tim
Thank you very much bud -Shanice
It was so easy to get my own image done. Absolutely love the finished product! Thank you so much! -Eva
Such Friendly Pleasant Polite Service & A Pleasure 2 Do Business With ALWAYS. Highly Recommend & Greg Will Certainly Do His Very Best 2 Help U Out!!! Amazing Unique Products & EXCELLENT CUSTOMER SERVICE That WILL Keep U Buying More Awesome Products 👍👍👍👌😊 Ont Canada 🇨🇦👍👍😊 -Candy
Perfect & Arrived Fine Always Great Fun Buying Stuff Thru Here. Great Friendly Service Thanks From Ont Canada 🇨🇦 -Candy
Love This Sticker & It's son My Car For ALL 2 See. Fast Pleasant Friendly Service & Always A Pleasure Buying Thru Here Thanks from Ont Canada 🇨🇦 & Highly Recommend -Candy
Very Happy & Always A Pleasure Chatting With Greg & I'm Just Enjoying My Personal Photo Mugs, Stickers & Posters 👍👍👌😊 Thanks -Candy
The shop owner is A+. I love my magnet and I appreciate your work. Excellent quality and again, thank you! -Frances
Excellent quality sticker and fast shipping -Fionna
Did not work for my project, but at no fault of the Vinyl, was cut neatly for a very small stencil, would highly recomend! -Nathaniel
Stickers are exactly as pictured and seem very durable, I have no doubt that these will last a while. -Jenna
Great product, incredible service, and super fast delivery! LOVE IT! -Rose
Fantastic service, design help, and very quick turn around. Highly recommend! -Amy
OWNER GREG IS THE BEST QUALITY STENCIL DESIGNER HERE ON ETSY !!! WILLING TO WORK WITH U ON CUSTOM PROJECTS ! GREG IS ON TOP OF HIS GAME !!! I HIGHLY, HIGHLY RECOMMEND CREEKTEE IF U WANT THE BEST QUALITY STENCIL HERE ON ETSY... REASONABLE TOO !!! THANKS GREG FOR YOUR SKILLED EXPERTISE AND PATIENCE !!! M -M
Exactly what I wanted! Very happy with this purchase. -Suzanne
Perfect quality! I can't wait to get started on my project! Greg worked with me to find the best material for my project and was super communicative! Delivery was super fast considering the circumstances of Canada Post at the moment! Would recommend to others!! -Antonia
such a fantastic product and so colorful and original. Every dog lover should have one.
WOW such colorful and very original compared to the common white ones you see in the store. will order again
I LOVE my bumper sticker, the shop owner is so great and worked with the perfect the design. I ordered the magnetic sticker and it is super great quality. -emilia
My son collects magnets and this has become one of his favorites! Thank you so much! -Wyndy
I absolutely love this! I want to thank you 😊 for making me feel safe again after my car accident that left me with a fractured hip. I have seen many drivers respect my sign and it thanks to you. -Daniella
Super fast from order to receive. Generous & talented team. Helped with design and more. Highly recommend! -Amy
Love it! My son is not sure it is strong enough to make it through a car wash, so he will have to remove it when he does.... However, an unwashed car fits well with the Zombie Response Vehicle magnet, so maybe the option is to forgo carwashes instead.
Amazing work!! Couldn't have asked for anything better! If your stumped on what you want. Give them your Ideas at least and they will work with you! Thanks again! -Ashly
Perfect buy! Really pleased with this purchase -Charlotte
I ordered my stencil only just before Christmas, because I'm a procrastinator. It came the day before and I was still able to finish my project and give it on time for Christmas morning. The stencil worked perfect, I used it for etching glass with a paste. -Bri
I received the custom stencil quickly , was very pleased, good quality! -Jamie
All good and as promised. Thanks for a great product. -Matthew
Greg and his company made fantastic stencils for my husband's business needs. We ordered stencils from 2.5 to 6.5 inches, and they are perfect! Great communication, price point, and service all round. So glad I chose this particular Etsy store to order from! Thanks so much! Sally
Love the photo fridge magnets. Fast and efficient service. Will definitely use Creektee services again. -Debbie
EXCELLENT!! EXCELLENT!! You're the best. Finest quality, precision, incredible value, exactly what you want. Thank you ever so much. -Zadie
Quick turn-around time on the design, the magnet feels sturdy and was exactly what I was looking for. -Maureen
This is boldly colorful and to the point. However, it took much too long to get here and turned out to be too pricey compared to other items similar. -Joan
These are perfect for craft projects.I used them to make Christmas ornaments. Love these! -Jayda
I can find my car again! Great communication and love the design! -Alexis
Customer service was great. They worked with my weird idea and made a wonderful (and hilarious) present that I cant wait to give to its recipient. Fast delivery and excellent communication! -Helena
Perfect Arrived Fast & I Love It Its Even Nicer Than I Imagined . Terrific Customer Service & Affordable Fast Shipping For Well Made Items Very Creative &!Original Ideas Just ❤️❤️❤️👍👍👍Ordering Here. Thank U -Candy
Seems to just be a regular bumper sticker, not sure why it costs 20$? Underwhelming.
Once again, CreekTee was amazing! They worked with me to create custom stickers for my new photography business, sending me multiple options to choose from and up front pricing. The stickers are beautiful and are already in use. Thank you so much! -Lauren
Really awesome company. I'm ordering another one this week.
Was exactly what I wanted and arrived promptly. Extremely happy with delivery, service and product! -Emily
Greg was able to get our team logo cut out with perfection. I did't have a high quality photo (took a pic of it on my phone) and they were able to capture all the details. I am extremely pleased with the result.
Wow! Came really quick and of good quality! -rene
Love it!!
Arrived Fast & Its already On My Car Bumper 👍👍👍✌️🤘😊😊😊🤣🤣🤣I Love It & Its Exactly As Described & Its Perfect -Candy
Fast delivery, well-packaged and reasonable shipping. Thank you! -Rob
Excellent quality. Extremely attentive customer care. Thank you! -LA
thank you. look great. nice addition to my truck. -pete
Perfect, just as desired. Will order something similar only here now! -Vlad
Great selection; reasonable pricing; speedy delivery. -Lauren
Great selection; reasonable pricing; speedy delivery. -Lauren
Let say that my trump stickers are getting lots of attention in Columbus, Ohio. I've been flipped off several times now. -Deborah
I love having this bumper magnet. It sticks well and is easy to read. Excellent quality. For more accuracy, I wish it said "I paid more in income taxes than Donald Trump". -nicole
Easy to download and perfect for my magnets! -Kathy
Love this company. If you are looking for customization especially on vinyl type magnetized stickers you wont be disappointed. Sent them a photo from my phone for a 40th bday gag gift and couldn't be more satisfied.
Great guy! Did everything accordingly. Updated me throughout the whole process. Could not fault this guy at all! Things will be so much easier if all sellers are just like him! -MI
Perfect size for the dishwasher. Very easy to decipher clean and dirty. -Tanya
Product came fast and well made. -Jacy
love this!!!!!! bought for my car- customer service was great!
Super cute! My kids at school will love this. -Melody
Driving around with this to remind everyone they NEED to vote! -Lisa
I absolutely LOVE my new bumper sticker! They were amazing to work with, both nice and quick! I will definitely be purchasing from this store again and I am enjoying showing off my new statement sticker as I drive. -Kellie
Fun & funny fast shipping would buy again. -Mary
Fast shipping great quality would buy again. -Mary
These vent covers are great and the seller helped with the custom color and sizing:) -Andrea
Arrived very quickly and just as I ordered. -Mary
Just incredible. Had some unique designs I'd made based on inside jokes that I wanted to etch onto a set of whiskey glasses as a gift to a friend. Sent a message asking if this was possible, shared the image files, and we were off. Shop was quick to reply, communicative, professional. The single-use vinyl stencils I ordered were gorgeous, and the whole project went off without a hitch. Will use again!
Seller was great and the product was exactly what we expected! I would recommend this!
Just what we needed!!! Thanks! -Mary
Excellent service! Fast response times, lots of design help. Decent ship time despite postal woes -Rebecca
Exactly as ordered and incredible timing! I received a message from the seller within minutes of ordering and it shipped that same day. Thank you! -Jen
I love everything about it. Such an important message that needs to be spread!
Great custom magnet. Very happy with my product -Katie
I love love love this pride sticker! The shipping was extremely fast and the sticker itself is amazing quality! I would definitely recommend! (Note, in the photo it looks like there's an air bubble but that's actually from a scratch on the car, nothing to do with the sticker!) -Faith
Came fast and it is beautiful ❤️❤️❤️ -maureen
Suits me perfectly 🥰 the white I chose stand out on my back window. -Charlotte
Amazing. Wonderful. Quick and kind! I will absolutely buy from here again!!!! -Kelly-Marie
Excellent customer service! -Macie Jones
Great item!! -Ronald
Very proud to drive my vehicle with my beautiful and extremely well crafted #BLM car magnet affixed. We all need to let the world know what really matters. -Cindy
Greg was great to work with and quick to get back to me with drafts of my stencil ideas. Will defiantly order again for future projects. The craft project for my friend and I turned out great! -Karen
Disappointed in the product! I thought our conversation was very clear as per what I needed but when I received the product it was not at all what I was hoping for. Maybe I should of been more clear. I needed a multi time use stencil and being a sticky stencil could only use once. -Chantal
Everything was very fast from getting the proofs to the delivery and I was very happy with the product I ordered which was magnetic number stickers. -Kristen
Loved these! Big hit with the friends I got them for. Greg did an amazing job!
Excellent product! Greg worked with me as much as possible to ensure the design I was looking for was spot on. Greatly appreciated!
When I accidentally ordered the wrong thing, Greg was super nice to replace at no extra cost! He provided several options and I absolutely love the final product for my Ford Edge 🤣🤣 -Kiki
Not what I expected. Still cute. -Tina
Perfect products & a pleasure to work with! Just as before! A+ -Betina
Perfect. Thank you! -Ris
Amazing customer service! Greg was extremely polite, and my bumper sticker magnet turned out so much better than I could ever hope for- very high quality. -Shannon Ginn
I purchased this as a gift using my own design. My friend loved it! Ordering was easy! I wish the package had tracking. -Angela
This product was great!!! It was exactly what we asked for! Also, great quick communication before so we could make sure what we wanted. Sent me a proof before I ordered also! Highly recommended!!!
They were awesome and qucik... delivery was also pretty quick -Brett
Would give 10 stars if I could! If you are a bumper sticker addict like me this is where to get your fix.
I like the fact that this magnet tells it like it is in style and good taste!
Great shopping experience. Wanted a wall vent cover that looked more like a picture due to the location of it. Sent a pic of my husband and I and it reproduced beautifully. Received my item quickly in perfect condition. Price was reasonable for a custom product. -Joanne
They were so helpful! Did a custom design for me and promptly sent proof. Came out PERFECT! Only problem is that if you are in a rush they are not in the country so it took a couple of weeks to get. -lisa underwood
Perfect! Good quality and fast shipping 👌 Exactly what I wanted for my project! -Wendy
Great. Reordered this again. Needed to use for another heater vent. -Norma
Excellent cover for heater. It is great that it is magnetic. -Norma
Thank you for working with me _ Great experience! -Elizabeth
Able to design the perfect car magnet! Great work! -Elizabeth
Arrived as described in a timely manner. -Suzanne
The package took way to long to be coming from Maryland. The item was beautiful! -Rhonda
Really bright and clear bumper sign and helps me give a boost to my fellow Health Professional— thanks -Andrea
GREAT communication regarding fonts, styles and options. CreekTee emailed me with samples, and I was able to choose. I LOVE THE DESIGN. -Regan
Love the way my image looks on the magnetic bumper sticker. Printed perfectly and arrived super fast! -Pamela
Wonderful product. Did a custom photo magnet. Turned out great and shop was very easy to deal with. Would buy from again. -Timea
The stickers are of exceptional quality and have impeccable design details. I'm beyond impressed. I'll be returning to get more custom stickers. -Chad
So happy with this product! They recreated my idea exactly and were so nice and accommodating about my revisions. I got it quickly and for a great price. I'm about to put an order in for another idea. Plus they were so nice to have a side chat with!
VERY happy with our American flag magnets. Nice size, great quality.
Perfect! Just perfect! Shipped quickly and great communication from seller.
Amazing from start to finish. Great communication. Quick processing time. Exactly what I ordered! Would recommend this shop to anyone needing their services! Thanks again! -Jillian
I love this I passed my extra on to a friend He loves it too -Judy
Super quick turnaround and shipping! Thanks again! -Lynda
Absolutely love the bumper sticker! Proofs were sent to me within a couple days with lots of background color options to choose from. Super quick with communication and high quality work! -Lauren
This shop can create anything you dream of. I got to choose from several options to get the best advertisement for my shop. Easy to work with, fast shipping, high quality, definitely recommend!!! -Julie
I LOVE the way this magnet turned out! Here it is surrounded by more of my etsy shop art! When I start driving to shows again, this magnet on my car will be a conversation starter! I highly recommend this shop!!! -Julie
Wow! Excellent transaction. My stuff was exactly what I hoped it would be, high quality, quickly shipped, safely packaged. Thank you so much, I'll be back for more. -Betina
Awesome to work with thank you -wendy
Never dissapoint! Great work always and super helpful :) -yarlette
Seller was generously accommodating and the sheet magnet arrived in perfect condition. It's exactly what I need for my project! Thank you.
Seller did a great job, my magnetic bumper sticker looked exactly as I wanted it to! Highly recommend this seller!! -Wendy
I am thrilled with my customized bumper sticker. Greg was great to work with and provided much appreciated guidance. And I received the finished product on a timely basis. Will definitely be using his services again. -Candace
Nice work!! Will use again. Thanks for making our cruise special -Joni
Faster shipping than expected, and seller included a second label free of charge. I'm very happy with the new mailbox label! -Claire
This magnet is super good quality! These guys also have top notch customer service! I had made a mistake when I ordered and they were more than understanding and so helpful! I'd recommend these to anyone
Shop owner was communicative and very kind when I had my questions! The bumper sticker was beautifully made, and they included some brand collateral for us to peruse. We will definitely be coming back to CREEKTEE for our next needed customization. -Presli
Love this product, thank you very much! -Michaela
Looks absolutely great! Stuck onto my bumper just fine.
My son and law loved the shirt! Thank you! -Julie
Excellent Communication, Fast Shipping, Great Seller!
10/10 would buy again. This shop is incredible with their communication, artistic ability, and speedy shipping. I wanted to get a bumper sticker made for my sister's instagram for her cat and this is what Greg from CREEKTEE came up with! It is absolutely perfect! I just gave a few basic ideas of what I wanted and Greg replied to my messages quickly and with multiple proofs for me to preview. The whole process was quick and easy because Greg was so responsive and was able to take my ideas and add to them with such creativity. I couldn't be happier with the way it turned out! It's so pretty and the quality of the whole thing is crisp and clear! If you have a need for bumper stickers or magnets, this is the place to order from. 100% satisfied and will be a returning customer! (White spots are only from glare) -Chloe
I'll edit with a photo later. The Uber magnetic decals I ordered were great. Very good quality. Held on even in very strong wind conditions. Sadly I'll have to re order. A day or so after having them on my car. My car was totaled. One of the decals I had on the hood and was destroyed. But either way would def order again. :) -Jeff
Customizing was super easy and the application went on smoothly. It looks great on our mailbox! -Holly
love it! Thanks for a beautiful job, and the extra surprise! -Virginia
The bumper magnet arrived on time and in great condition. The seller had spot on communication asking and suggesting alternate details that could enhance the outcome of my sticker. I appreciated all the attention to that cake along with this product. Thnx I'll definitely buy again. -Esmeralda
Product delivered fast good experience with sponsor just want I ordered in a timely fashion -Donna
Quick shipping. Magnet bumper sticker works well. No probs -Casey
Shipped and arrived quickly. Love the graphics. -Nikki
Quick to respond to messages. Fast turnaround time too! Just as requested! Will be ordering again 😊 -Lynda
Item was as described and was of good quality good service it arrived very quickly thank you. -Omar
Great product! Excellent seller!! Easy customization & very fast turn around.
Very fast shipping to Slovenia, came in 2 weeks. I've ordered 1 sheet of stickers, the seller sent me 3 extra sheets for free! :)) Very happy and will definitely order again. Thank you very much! -Nina
easy to apply and useful while having my daughter learn to drive- we bought one for a friend too! -CHRISTINE
Works great and love the magnet instead of a sticker -CHRISTINE
I ordered this for my son that has his permit. We used to get honked from road ragers, but with this sign, people give us a friendly smile and a thumbs up. -Melissa
Looked better than expected. They even offered more options after initial purchase. Thanks! -Julie
Great quality sticker. Arrived quickly! -Teri
What a great business. They worked with me on color and placement of words. Definitely recommend. -Judy
Couldn't be happier with my purchase! Magnets are very strong and hold a very powerful grip as I've driven 70+ mph and taking my vehicle through the automatic car washes with no problems! 5 STARS! Plus the Customer Service was beyond excellent!!!!!! -Erasmo
It looks great on my car! Thank you so much!! -Trisha
Best seller I ever worked with on Etsy! Was quick to reply, was quick to create my order, and was quick to ship it out! I only bought 1 magnet, but since I did a smaller size he sent me another 1 for free and threw in a couple stickers! 😊
Excellent customer service! Very prompt. When the postal service lost my package, they shipped out new stickers right away. Very pleasant to work with! -Anna
What I got isn't what I ordered. There's a bunch of different sizes from what I ordered. The Facebook logo and the writing I chose are drastically different sizes. The dot above the letter i wouldn't stick. Letter spacing is inconsistent. -Chelsey
Arrived fine; like the design.